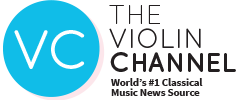 Hermitage Piano Trio Announce New Management
July 29, 2021
The trio has signed with Bill Capone of the New York-based agency Arts Management Group (AMG) for North American representation
Consisting of violinist Misha Keylin, cellist Sergey Antonov, and pianist Ilya Kazantsev, the trio are now entering their second decade together.
The trio's debut album, "Rachmaninoff," was released in 2019 and received a GRAMMY Nomination for Best Chamber Music/Small Ensemble Performance.
A multi-album deal with Reference Records means that the trio will follow this recording with several others.
Additionally, the ensemble has appeared on major chamber music series and festivals in Los Angeles, New York, Boston, Philadelphia, Washington, D.C., Tucson, Portland (OR), Tulsa, San Diego, among others.
"We are excited to begin our partnership with Arts Management Group," said the trio on social media. "For over 25 years, AMG has been representing outstanding, elite artists for the concert stage and we are honored to be a part of their roster among so many exceptional musicians."
Other chamber music groups on AMG's roster include Quatuor Ébène, the Doric String Quartet, and the Escher String Quartet.