Rachmaninov
Trio élégiaques – No 1; No 2, Op 9.
Vocalise, Op 34 No 14 (arr Julius Conus)
Hermitage Piano Trio
Reference Recordings RR147 (72′ • DDD)
Trios – selected comparisons:
Kremer, Trifonov, Dirvanauskaite
(5/17) (DG) 479 6979GH
Trio Wanderer (8/19) (HARM) HMM90 2338
Trio No 2 – selected comparison:
R Capucon, Levionnois, Kozhukhin
(10/12) (EMI/WARN) 644701-2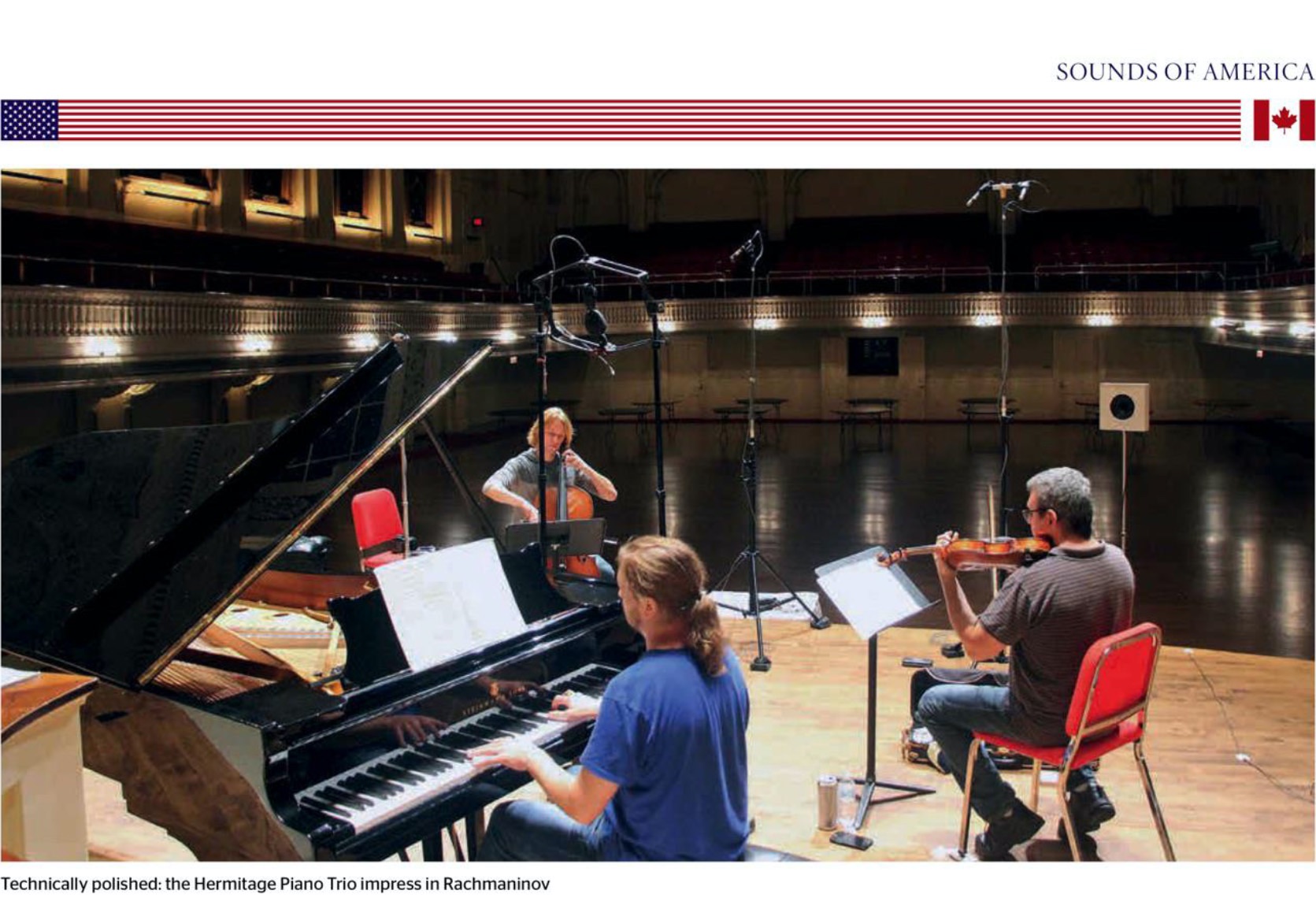 Rachmaninov's piano trios have been extremely lucky on disc, with dozens of world-class versions (both sonically and interpretatively speaking) from which to choose. The Hermitage Piano Trio prove another strong contender within a catalogue of riches.
The ensemble brings a darker, more brooding vantage point to the 19-year-old composer's one-movement G minor Trio, tastefully stretching out phrases that the Wanderer Trio accelerate, while favouring relatively massive sonorities that contrast with the leaner, more driving Trifonov/Kremer/Dirvanauskaitė traversal.
If you prefer the long D minor Trio's opening Moderato sung out in truly elegiac and sombre terms, the present recording will surely fit the bill. In particular, the impassioned thrust of the unison string triplets (5'09") stand out for their unanimity under pressure, whereas Kremer and Dirvanauskaitė occasionally lunge above the staff.
Those who feel that Trifonov stretches the Quasi variazionemovement's opening theme to reverential extremes may prefer Ilya Kazantsev's straighter phrasing and telling dabs of minutely overlapping legato pedalling (not to mention his dazzlingly rapid unison runs elsewhere). That said, I prefer the faster flexibility of Denis Kozhukhin in the 2011 Argerich Lugano Festival compilation and the late David Golub (Arabesque). Yet again, the unified tempo relationships and high level of ensemble give and take add up to a satisfying entity. However, for sheer forward momentum and dramatic sweep, the Hermitage Trio set the Allegro risoluto finale ablaze, revelling in its rhythmic asymmetry and dramatic sweep, and consequently surpass the Trifonov/Kremer/Dirvanauskaitė triumvirate in regard to forward momentum and dynamism; compare, for example, the broken-octave tutti passage about 3'50" into the movement and you'll hear what I mean. If I could morph the Heritage Trio musicians' impeccable ensemble and intonation in the Vocaliseon to the faster, more fluid tempos of several less technically polished ensembles who've recorded Julius Conus's arrangement, I'd be a happy camper. Thoroughly detailed annotations and ravishingly balanced surround-sound engineering lend further distinction to this release. Jed Distler